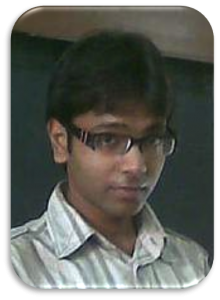 I am broadly interested in Data Sciences and programming. I came to UC Davis with a diverse background. I received my BTech and MTech degree from IIT Delhi with major specialization in Biochemical Engineering & Biotechnology and a minor specialization in Nano Science & Engineering. While I was trained as an engineer through my coursework, I had been more of an Applied Mathematician to Computational Biologist by my research experiences.
After graduation in 2013, I participated in a business venture with a friend from college, EuMentis Informatics. We started offering Data Analysis, Management and Consulting services backed by a team of experienced professors and hard-working graduates. While I was impressed with the prospects in Biomedical Informatics, I felt the need for a better understanding of the area. With this goal, I left EuMentis to join UC Davis and I have been fortunate enough to find an ideal home with Dr. Aviran's research group. I am currently interested in developing statistical inference models and software to analyze next-gen trancriptomic data.
Besides research, I like spending time playing music and hiking.